We offer a free edition of the Hebrew Bible (JPS) in English, recognized as the most authentic and trusted English translation of the Hebrew Bible.
Download for free the greatest translation of the Tanakh (The Hebrew Bible) into English, the Bible edition published by the Jewish Publication Society of America.
Carry everywhere the best offline version of the Holy Scriptures for American Jews. You can download on your phone and then read it without Wi-Fi service.
The Jewish translation is based on the Hebrew Masoteric text and reflects Jewish law faith and tradition.
Download now a Jewish edition of the Holy Scriptures. Spend time in the Word of God and your life will change!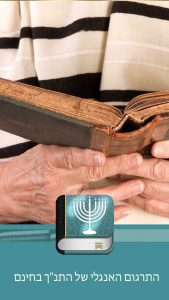 The order of the books of the Jewish Bible is different from a Christian Bible:
Torah (The Law): Bereshit-Genesis, Shermot-Exodus, VaYikra-Leviticus, BaMidbar-Numbers, Devarim-Deuteronomy.
Neviim (The Prophets): Yehoshua-Joshua, Shoftim-Judges, Ruth, Shmuel A-1 Samuel, Shmuel B-2 Samuel, Melachim A-1 Kings, Melachim B-2 Kings, Yisheyah-Isaiah, Yermiyah-Jeremiah, Yechezchial-Ezekiel
Treisar (The Minor Prophets): Hoshea, Hosea, Yoel – Joel, Amos-Amos, Ovadiyah-Obadiah, Yonah – Jonah, Michah – Micah, Nachum – Nahum, Chabakuk – Habakkuk, Tzefaniyah – Zephaniah, Chaggi – Haggai, Zechariyah – Zechariah, Malachi – Malachi.
Ketuvim (The Writings) Tehilim-Psalms, Mishlei-Proverbs, Eyov-Job
Megilot: Shir HaShirim – Song of Songs, Ruth – Ruth, Eichah – Lamentations, Keholet – Ecclesiastes, Esther – Esther, Daniyel – Daniel, Ezra – Ezra, Nechemiyah – Nehemiah, Divrei Yamim A – 1 Chronicles, Divrei Yamim B – 2 Chronicles.