We are happy to release the Holy Bible in English in android for free. This app contains both "Old Testament" and "New Testament".
The Bible is the unique Word of God. For centuries, it has been translated into English many times, in different versions such us the King James Version, the New King James Version, the American Standard Version and many others.
Today we offer the Holy Bible App, a new app that offers you the American Standard Version of the Bible, a very accurate, updated and authentic translation of the Holy Word.
Enjoy this new intuitive app that allows you to read the Bible without being connected to the Internet. Reading the Bible is very easy now!
You can adjust the font size by using the font adjuster and easily go to a chapter of any book or any verse. Carry your personal Bible everywhere and read it when you need to hear the message from God.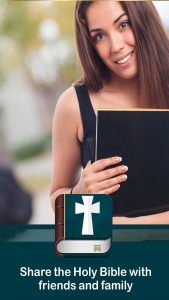 Read the bible to feel that you are not alone. God speaks to you when you read the Holy Scriptures.
Enjoy the complete American Standard Version of the Bible containing the Old and the New Testament:
The Old Testament has 39 books total, which consist of: Genesis, Exodus, Leviticus, Numbers, Deuteronomy, Joshua, Judges, Ruth, First Samuel, Second Samuel, First Kings, Second Kings,
First Chronicles, Second Chronicles, Ezra, Nehemiah, Esther, Job, Psalms, Proverbs, Ecclesiastes, Song of Solomon, Isaiah, Jeremiah, Lamentations, Ezekiel, Daniel, Hosea, Joel, Amos, Obadiah, Jonah, Micah, Nahum, Habakkuk, Zephaniah, Haggai, Zechariah, Malachi.
The New Testament has 27 books total, which consist of: :  Matthew, Mark, Luke, John, Acts, Romans, Corinthians 1 and 2, Galatians, Ephesians, Philippians, Colossians, 1 Thessalonians, 2 Thessalonians, 1 Timothy, 2 Timothy, Titus, Philemon, Hebrews, James, 1 Peter, 2 Peter, 1 John, 2 John, 3 John, Jude, Revelation.