Enjoy the King James Bible Large Print on your phone or Tablet Android, a Bible specially made for those with vision problems.
It has never been so easy to read the Bible!
We present for free download the King James Bible, the most important Bible translated into English also called the "Authorized Bible".
You can download this beautiful Bible app and read the Holy Scriptures in a readable, clear and legible format, with letters larger than usual, to accommodate people who have poor vision.
Best of all, this is an app on line and offline. Once you have downloaded the app on your device, you can use it even without Wi-Fi connection.
Carry your Bible with you everywhere!
The Bible is divided into two parts: Old Testament and New Testament.
Testament means "Covenant" and refers to the alliances that God agreed with the Israelites in the Old Testament and the new and definitive Alliance that God made with the men in the blood of Jesus Christ.
Download now the Holy Book inspired by God, the Scriptures, the truths revealed by him, through the Holy Spirit. God inspired the human authors that wrote its sacred message in the Bible.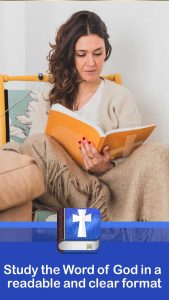 The Bible was written over a period of 1600 years by some 40 authors from many different locations and cultures. Some were kings, peasants, philosophers, fishermen, physicians, statesmen, scholars, poets, and farmers. They lived in a variety of cultures. In spite of this diversity, its unity is amazing and this is because there is a unique author: God.
The Sacred book was written in different places (three continents: Africa, Asia and Europe) and in different languages: Hebrew, Aramaic, and Greek, a long process that began about 1300 years before Christ and the last writer was San Juan approximately 100AD.
Its first translation was made in Alexandria near the year 250 B.C, which was made by Jews. The Bible have been translated so many times to more than 2,000 languages around the world.
Our application allows you:
-Read the Bible in large print format
-Enjoy a completely new and user friendly interface
-Use the app without Internet connection
-Adjust text size to read easier
-Copy and paste the passages you like
The easiest way to read the Bible: The Holy Scriptures in large print format!